Becoming a mother is never easy, but having kids in my teen years created a set of barriers that seemed impossible to overcome at the time. At the age of 20, I found myself a single mom of two with the weight of the world on my shoulders. The idea of pursuing my own personal and professional development, which I always valued, seemed unimaginable and I worried about our finances. It's hard to imagine how different my life would have played out without the YMCA of Okanagan.
I was first introduced to the Y in high school. Before then, I was never interested in sports or exercise but in grade 12 I had to join a gym to meet school requirements. I joined the Kelowna Family Y just because it was close; however, I quickly realized how much better I felt about myself when I was working out. It motivated me to eat healthier and I felt more positive about my body even during the awkward teen years. People noticed how much healthier I looked. The effects it had on my happiness were undeniable and during my time in the gym, I grew passionate about fitness.
During that last year of high school, I found out I was pregnant. I had my first baby shortly after graduation and got married. I had to grow up very quickly and life was so busy that I dropped my Y membership and had my second child two years later. My second pregnancy was very stressful, and my then-partner and I ended up separating on good terms. In the end, my baby arrived healthy and happy, but I was a mess.
I had stopped going to the gym and felt terrible. Considering what kind of life I wanted to build for my family, I remembered my time at the Y. That was the place I had felt the most like myself. I knew that joining the Y would be beneficial for my family, but was worried that I wouldn't be able to afford it.
Luckily the staff at the Kelowna Family Y welcomed me with open arms and guided me through my application for financial assistance. I was ecstatic when I was approved and could afford our membership. Since I was on income assistance and lived in subsidized housing, it was such a relief to be able to provide a healthy outlet for myself and my kids.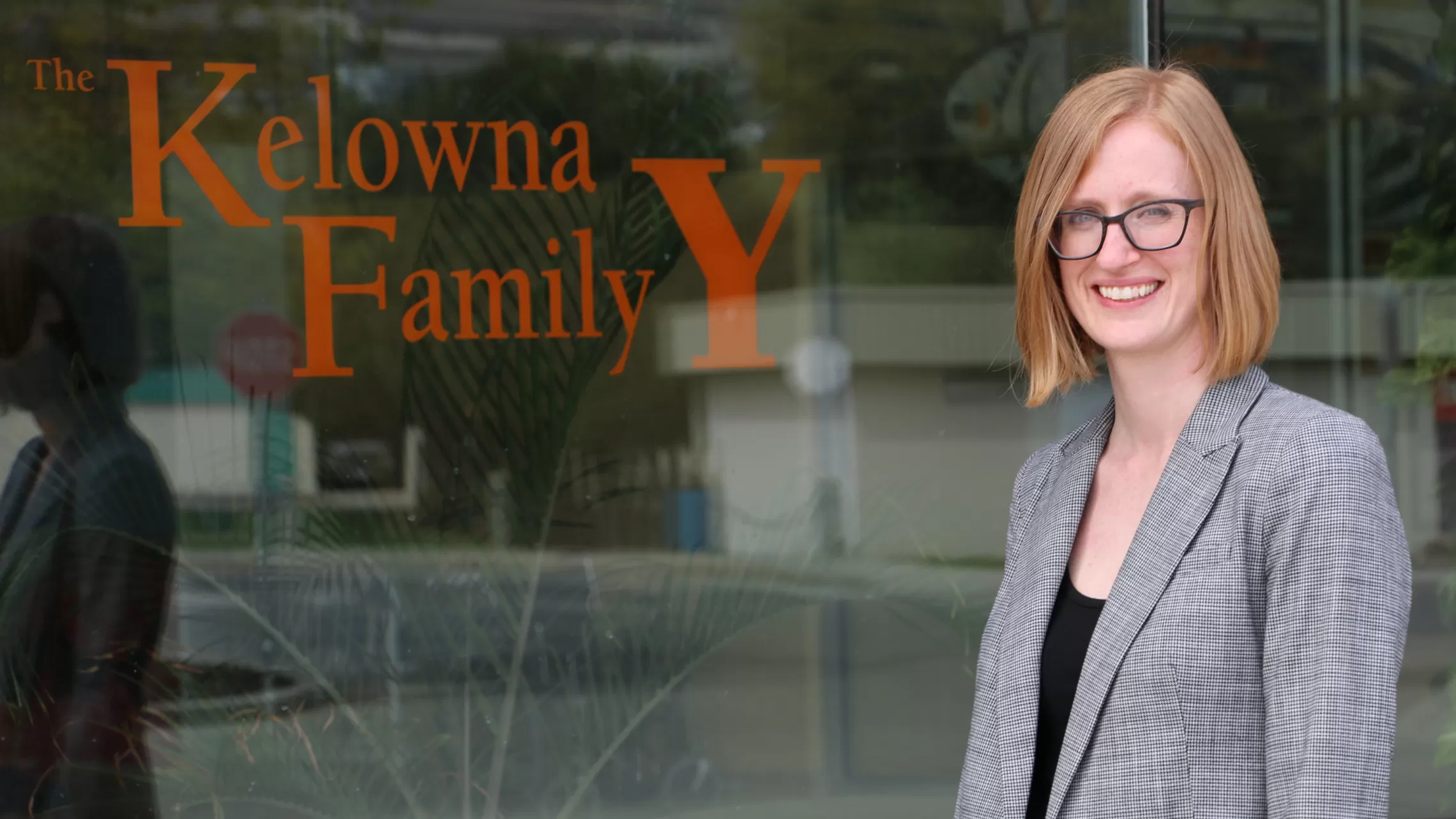 I jumped right back into the habit of working out and started to feel like myself again. It felt incredible to return to something I was passionate about and taking a little break from my kids helped reenergize me. I knew they were in good hands when I left them in childminding, and they also had so much fun playing in the program.
While at the Y one day, I noticed a poster for becoming a YMCA fitness instructor. I had been wanting to get back to work and was considering what kind of a career I wanted to pursue. I thought this growth opportunity sounded interesting and liked the idea of helping others feel as good as I did through fitness.
I completed my certification to become an Aquafit Instructor, and really enjoyed it. One of the Aquatics staff, Torrie, mentored me through the process of completing my certification and by the end I decided that I also wanted to become a lifeguard. I underestimated the amount of training it required but was determined to see it through.
So, when my kids were 2 and 4 years old, I spent an entire month completing all the courses I needed to become a lifeguard. I landed my first paid position at H2O Adventure + Fitness Centre as an Aquafit instructor and Fitness Host. Soon after I transitioned to a lifeguard position at the Kelowna Family Y which I enjoyed for nearly 5 years. During this time my kids attended swim lessons and before & after school care with the Y as well.
At this point, I was looking for a new challenge and took on a career as a dental assistant but soon realized my heart wasn't in it. I missed my experience working at the Y so, with the blessing of my children, I successfully applied for the Aquatics Supervisor position. I was happy to return to my Y work family in a new role with greater responsibilities. Meeting my current partner on the pool deck after swim lessons was also an incredible perk of the job!
When I was ready to learn and grow once again, I decided to pursue an education in Business Administration. I began my studies while continuing to work at the pool and raising five kids with my new partner.
Now, I couldn't be happier. I currently work in the YMCA's Human Resource department as an Administrative Coordinator and love it. I still work out regularly, and my kids are now thriving teens. The financial assistance we received helped set my family up for success and I couldn't be more grateful.
The YMCA has had such an impact on my early years as a mom, my career path, and my sense of self. It would have really been a struggle without the tools and support they provided to help me navigate life as a teenager and a working mom. What I ended up with is a house full of loving family members and a community that helped me grow into the person I am today.