A year ago, my world was flipped upside down when my wife passed away unexpectedly due to complications from childbirth.
Everyone was equally shocked and devasted by this turn of events and overnight, I became a newly single dad with a toddler and newborn baby.
Before this, my wife and I were on top of the world. We both had good jobs, our daughter Olivia (who is now 3 years old), our beautiful home and we were excitedly awaiting the arrival of our second baby, Jack. In the blink of an eye, we became a low-income family with limited resources.
There wasn't much time to dwell on my situation, there was so much on my plate and I could only move forward. I had to break everything in our lives down and rebuild a new life from the ground up. I first made sure we had shelter, food and that my kids were loved beyond measure.
Once Jack and Olivia had the basics, it was time for me to figure out how I was going to be happy. The fatigue of waking up with two kids all night was affecting my mind and energy. I was groggy, tired and grieving but still needed to be the best possible parent for my kids, especially since it was just me.
I decided the next step was to prioritize my fitness, so I dropped into the Kelowna Family Y a few times using some old passes I had. As a former track athlete, sports, recreation and community have always been a big part of my life and I knew I wanted to ingrain these values within my kids. I just didn't know how to make it work with my budget. The drop-ins to the Y were nice, but they weren't a long-term solution for the life I wanted to build for my family.
I was amazed when someone from the Y reached out to me during one of my visits. They knew my situation and told me about the YMCA's financial assistance program. For an organization to reach out to an individual who is struggling is impressive and I can't thank them enough for their kindness. I will never forget their generosity. It was exactly what I needed at the time.
We are grateful to have been given the opportunity to access the Y. Jack, Olivia and I became members and started coming in five to six days a week as part of our routine during my paternity leave. I would drop them off at childminding and go workout.
My membership at the Y gave me a place to take care of my physical and mental health so that I could be the best parent to my kids. It gave me a place to connect with others while taking a break and maintaining my sense of self.
The energy I have after working out here and the positivity I leave with have had a major impact on my life. The Y really helped build me up so that I could wake up four to five times a night with my 3-month-old son and then deal with an energetic toddler first thing in the morning.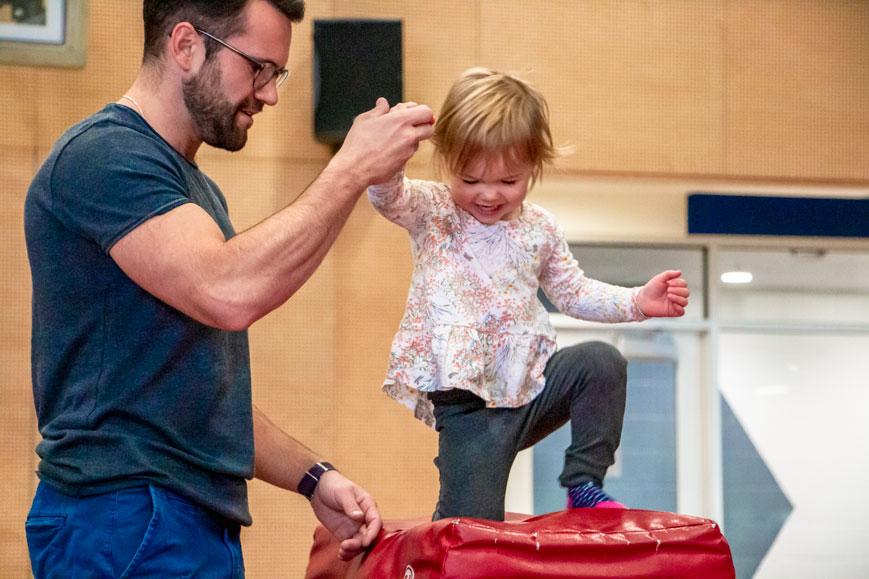 Sometimes it's a struggle for me to find the energy to paint or do other engaging activities with my kids when I'm the only source of play. Bringing them to childminding at the Y provides them with that stimulation and they get to interact with other kids. It's very meaningful to be able to give them that. Like me, they also get energy out at the Y so they feel and act better the rest of the day.
The YMCA has been a life-changer for us. We love the environment, everyone who works and volunteers here is incredible. This place truly boosted my family's morale and spirit and gave us a sense of community.
To anyone struggling with mental health issues, grief, loss, or anything else, being a part of a community and finding a sense of belonging is critical when you feel you have none. The Y is a great place to go when you feel lost.
We are so appreciative of the donors who reduce barriers for so many people who access the Y for their health and for a sense of community. Thank you so much for your support and please continue to help the Y and all those who rely on it.
I don't know where my family and I would be without the Y, the benefits to my happiness and personal development have been amazing